"THE URGENCY"VIDEO ALBUM
DVD/DOWNLOAD VERSION AVAILABLE HERE:
http://www.undervolt.co/The-Urgency-Extreme-Animals
"THE URGENCY" VIDEO ALBUM
VHS VERSION AVAILABLE HERE:
http://thunderzone.merchtable.com/music/extreme-animals-the-urgency-vhs-and-zine-tz014#.U4u9yJRdXzQ
EXTREME ANIMALS SHIRT:
Sizes:
These shirts were professionally screened on high quality tultex shirts. Small, Medium, or Large. Please specify size of shirt when you check out through Paypal. Thank you.
EXTREME ANIMALS "MUSIC IS A QUESTION WITH NO ANSWER" DVD-R: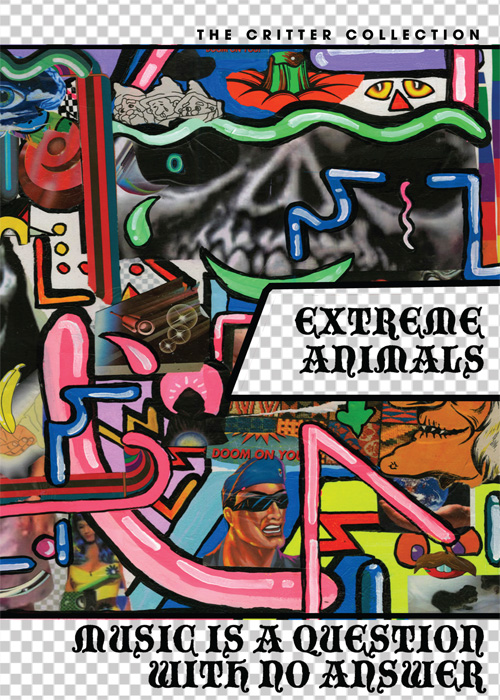 This DVD-R was released by the Portland-based label Audio Dregs in September of 2010. They have sold out of all their copies but the few remaining DVDs are here.
E*Rock's original press release: "A new installment in the Critter Collection series by the Extreme Animals! This is a DVDR with video pieces by Jacob Ciocci and Extreme Animals music, limited to 100 copies and available on their 2010 tour as well as at here. Hardcore hip-hop bagpipe jamms and pixelated party wisdom, including the tracks 'Get Out of Your Mind', 'Question of the Ages', 'Dark Green', and 'Your Life/Your Language'. Life is a wilderness, don't do anything illegal."